Dayton Functional Medicine:
Dr. Rick Hasemeier
I grew in unique household were my father was a chiropractor and my mother a registered nurse. The 2 opposing beliefs about health sometimes created for some interesting conversations around the dinner table.
I made the decision to go into the healing arts at the age of 12 when I saw my grandfather lying in a hospital bed dying from cancer. I then in my junior year of high school I was trying to decide to become a chiropractor or becoming a nurse anesthetist. I came to the realization that there has to be a better way to help the body heal itself and be healthier. I then decide to go chiropractic school.
I have exclusively been practicing Functional and Lifestyle medicine for the last 5 years.
When I'm not working with patients, I volunteer with the Middletown Senior Citizens and participate with the Springboro Rotary Club. I enjoy listening to audiophile recordings through headphones, and learning to help individuals be the best version of themselves. My wife Dana and I live in Trenton with ducks that are herding toys for our four Cardigan Welsh Corgi dogs. (Traci, Nell, Aero and Chip).
I constantly strive to learn new ways to help people overcome health challenges and learn the why behind things in the world around us.
What is the certification process that Dr. Hasemeier has gone through in Functional medicine?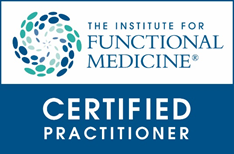 Dr. Hasemeier as an IFM Certified Practitioner of The Institute for Functional Medicine's Certification Program (IFMCP) is uniquely trained in the Functional Medicine model to identify and treat the root causes of chronic disease. In order to achieve this designation of IFM Certified Practitioner, Dr. Hasemeier has completed seven training seminars and passed stringent written and case study evaluations. This certification requires a written examination every 6 years to maintain this designation.
If you think that you or a loved one is a good candidate for Functional Medicine and Lifestyle Medicine, contact Hasemeier Health to arrange a thorough examination in our practice.